The Many Faces of Don Quijote
Don Quijote Visits ACLAMO
Students in the after school program were amazed when they arrived at ACLAMO to be greeted by Don Quijote himself – well, actually by Gerardo Gudiño, the actor from New York City´s Repertorio Español who plays the part of Don Quijote.

Gerardo spent more than an hour talking with the children about theater and led them through a series of exercises to improve stage presence, relaxation, posture, and voice projection.

The Repertorio Español had been invited to perform as a part of Montgomery County Community College's exciting Lively Arts Series by Brent Woods, Director of Cultural Affairs, and Luz Gamauf, Assistant Professor of Spanish. As part of the partnership between the college and ACLAMO, these organizers included ACLAMO in the visit.

The result was Don Quijote's visit to ACLAMO and a busload of excited students traveling to campus to attend the performance of "El Quijote" as guests of the college. Ushers at the event were ACLAMO After School students, who had been trained in customer service skills by the college as part of ACLAMO's Youth Workforce Development Initiative.
EXELON Volunteers Bring Major Upgrade to ACLAMO Pottstown
In early October, a team of 51 volunteers from Exelon's Limerick Generating Station descended on ACLAMO's Pottstown office building. They had planned carefully with ACLAMO and were led by expert carpenters, electricians, plumbers, and painters.

In a little more than one day of incredible work, they laid new rugs, painted walls, checked the heating system, installed a new thermostat, improved the lighting, cleaned out the basement, installed two new sump pumps, filled the oil storage tanks for winter heating, and donated new computers and tables. When they were finished, the offices had been transformed.

"We have a new building!", ACLAMO site coordinator Maricruz Clemens beamed. "There is no way I can thank the Limerick employees enough. They are wonderful."
Angel Lopez, security supervisor at the Limerick Generating Station and the lead for the Organization of Latinos at Exelon was equally enthusiastic: "Limerick Generating Station recognizes the importance of community outreach programs and partnerships. We have a social responsibility to give back to the community in which we operate. Volunteerism is an important component of our social accountability and good citizenship. Donating our time and effort makes an even greater impact on the community than monetary donations alone. We realize there are individuals in need of assistance and we are happy to partner with ACLAMO on this and future projects."
ACLAMO Partners with Norristown Fire Fighters
As part of its mission to educate the community, ACLAMO partnered with the Norristown Fire Department to provide critical information on fire safety in both English and Spanish.
During Fire Prevention Week, fire fighters discussed fire safety, smoke detectors and fire drills with mothers and children in ACLAMO's Family Literacy Program. This presentation included showing families a firetruck and letting students try on fire fighting gear.
Telemundo 62 and NBC 10 covered the event and news reporter Andrea Cruz had a chance to interview some very cute participants.
---
Episcopal Academy Makes "Blood"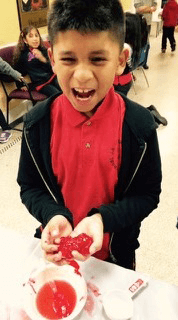 ACLAMO families benefit from many volunteer groups. One of the most loyal is made up of students and teachers from Episcopal Academy.

This fall, Episcopal Academy helped ACLAMO students get in the mood for Halloween with a messy, fun polymer project making "blood slime".
ACLAMO'S ESPANTAPAJAROS Adds To Fun at Morris Arboretum
After hosting regular visits by ACLAMO students during the Summer Bridge Program, Morris Arboretum invited ACLAMO to contribute a scarecrow to its display of over 30 scarecrows along the Arboretum's Oak Allée. The theme was "Sense of Adventure".
ACLAMO Board Member Career Focuses on Making Connections
Sharon McMichael, treasurer of the board of ACLAMO Family Centers, has made a career out of making community connections. Beginning as a bank teller, Sharon proved able to establish strong relationships with customers. This caught the attention of her supervisors and she was moved into customer service.
"I really enjoyed helping ordinary people from the Phoenixville and Pottstown areas as they worked to establish solid credit and to obtain home mortgages," Sharon recalls. She continued to expand her responsibilities, eventually joining National Penn Bank in the early 1990s.

When bank president Lawrence Jilk set up a team of dedicated professionals to support his commitment to community reinvestment, he tapped Sharon to work with him. President Jilk was acquainted with many local social service agencies and was instrumental in making connections between these agencies and banking leaders. That is how Sharon first became acquainted with ACLAMO.

"Larry Jilk was a real visionary in the area of community reinvestment," Sharon recalls. When the Community Reinvestment Act [CRA] was strengthened during the 1990's, National Penn was ready and Sharon's job of managing the bank's connections with community organizations expanded considerably.

When BB&T recently acquired National Penn Bank, Sharon's experience and skills fit well into the bank's community development strategy and she was appointed as a BB&T CRA officer working with compliance and community development.

ACLAMO Executive Director Nelly Jimenez appreciates Sharon's many contributions. "Sharon has been a wonderful supporter of ACLAMO programs for nearly 20 years," Jimenez comments. "I rely heavily on her sense of the history of the organization and her knowledge of the banking system."
ACLAMO Prepares to Celebrate 40 Years
Firmly based on the past and present dedication and hard work of hundreds of staff members, volunteers, donors and committed families, ACLAMO is making plans to celebrate its 40th year of service to the community.
ACLAMO's Culinary Celebration 2 will be the primary focus of this anniversary. This signature event will be held on April 30, 2017 at Montgomery County Community College.
Be sure to mark your calendars so you can join us. More details will be announced in coming weeks, but right now you can follow this link to watch a Comcast interview with ACLAMO executive director Nelly Jimenez-Arevalo in which she discusses this event.