Fair Funding in PA Public Schools
ACLAMO is an endorsing organization of the PA Schools Work Campaign.
The campaign is a coalition of organizations from across Pennsylvania representing teachers and other educators, parents and other community members working together to advocate for PA public schools, their students, and the communities they serve. As an endorsing organization, ACLAMO supports the messaging and goals of the campaign, takes action in monthly meetings, and participates and co-hosts rallies, panels, and discussions to help eliminate funding disparities across school districts. Inadequate funding  particularly affects people living in poverty, English language learners and/or those with other needs. The PA Schools Work solution assures that all students, regardless of race, ethnicity, ability, family income or the community where they live, will have equal opportunity for success.
To learn more about the campaign: https://paschoolswork.org/ and https://www.fundourschoolspa.org/.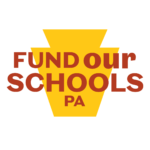 Pennsylvania's School Funding Lawsuit - November 12, 2021
William Penn School District et al. v. Pennsylvania Department of Education et al.
In 2014, six Pennsylvania school districts, the Pennsylvania Association of Rural and Small Schools, the NAACP-PA State Conference, and a group of public school parents filed suit in Pennsylvania Commonwealth Court against state legislative leaders, state education officials, and the governor for failing to uphold the General Assembly's constitutional obligation to provide a "thorough and efficient" system of public education. The districts—William Penn, Greater Johnstown, Lancaster, Panther Valley, Shenandoah Valley, and Wilkes-Barre Area—and other petitioners are represented by the Education Law Center of Pennsylvania, the Public Interest Law Center and O'Melveny. Students are on track to have their day in court in November 2021. A trial will take place in Commonwealth Court in Harrisburg starting November 12. 
Fact Sheets:
FAQ Lawsuit (English)
https://www.fundourschoolspa.org/ 
Norristown District Data 
Pottstown District Data 
No More Dreams Deferred
On March 25th, Executive Director and CEO of ACLAMO, Ms. Nelly Jimenez, and ACLAMO's Community Organizer, Ms. Rocio Gonzalez, spoke at Public Citizen's for Children and Youth's event, No More Dreams Deferred, to discuss how Black and Latino students are more affected by lack of funding and resources.
Education Equity Funding Parent Summit
On April 24th ACLAMO was a co-host of the virtual event, Education Equity Funding Parent Summit. For months leading up to the event, ACLAMO was a co-organizer along with 7 other organizations to host this summit and engage parents and parent groups to elevate their power, bringing authentic, committed and diverse constituent voices to the decision-making table. Parents and those who attended had the opportunity to meet with elected officials who talked about the importance of more school funding through the "Level Up" supplement; interacted with other parents to create a perfect school that meets the needs of students; and participated in collective action by using different advocacy strategies to promote the importance of funding for our schools.