Maria I.
"In my experience, I have learned a lot throughout my history with ACLAMO. The meetings I attend have made me feel safer, I know what to do in an emergency situation, and I know how to help a family in my neighborhood when a need arises."Maria I. moved from El Salvador to the United States in 2003. In search for a better job, and more efficient means of transportation, she chose Montgomery County as her new home. Maria became acclimated with ACLAMO in 2018 when a friend from the community told her about our organization. Known to the community as a place who helps people, they passed the message along that she could find resources to put her child through Pre-Kindergarten (Pre-K). Her child is enrolled in our pre-kindergarten classes where our pre-k teacher leads students during class time, helps with homework, organizes games, and prepares them for the next grade level.
Maria I. also is one of our volunteers and participates in our Promotores de Salud advocacy group. She says, "ACLAMO always has time for us, for the community. It is a very important institution that helps in every aspect to provide resources. They are problem solvers in providing community aid." She adds, "In my experience, I have learned a lot throughout my history with ACLAMO. The meetings I attend have made me feel safer, I know what to do in an emergency situation, and I know how to help a family in my neighborhood when a need arises." 
"En mi experiencia, he aprendido mucho a lo largo de mi historia con ACLAMO. Las reuniones a las que asisto me han hecho sentir más segura, sé qué hacer en una situación de emergencia y sé cómo ayudar a una familia en mi vecindario. cuando surge una necesidad."
Maria I. se mudó de El Salvador a los Estados Unidos en 2003. En busca de un mejor trabajo y medios de transporte más eficientes, eligió el condado de Montgomery como su nuevo hogar. María se acercó a ACLAMO en 2018 cuando un amigo de la comunidad le contó sobre nuestra organización. Conocido por la comunidad como un lugar que ayuda a las personas, ellos transmitieron el mensaje de que ella podría encontrar recursos para que su hijo cursara prekindergarten (Pre-K). Su hijo está inscrito en nuestras clases de pre-kindergarten de infantes donde nuestro maestro de prekínder dirige a los estudiantes durante el tiempo de clase, ayuda con la tarea, organiza juegos y los prepara para el siguiente nivel de grado. Maria I. también es una de nuestras voluntarias y participa en nuestro grupo de Promotores de Salud. Ella dice: "ACLAMO siempre tiene tiempo para nosotros, para la comunidad. Es una institución muy importante que ayuda en todos los aspectos a proporcionar recursos. Son solucionadores de problemas al brindar ayuda comunitaria". Ella agrega: "En mi experiencia, he aprendido mucho a lo largo de mi historia con ACLAMO. Las reuniones a las que asisto me han hecho sentir más segura, sé qué hacer en una situación de emergencia y sé cómo ayudar a una familia en mi vecindario. cuando surge una necesidad.
Guadalupe F.
Guadalupe F. moved from Atlixco, Puebla Mexico to the United States in 2009. She moved with the intention of being able to help her brother with special needs since in Mexico children with autism are not given so many opportunities.
Guadalupe chose Montgomery County as her new home since her husband had lived in Montgomery County before. She enjoys Norristown because there are beautiful things nearby like restaurants, shops, and everything is in walking distance. When Guadalupe arrived in Norristown she was surprised because the culture of the United States is different from Mexico. She says "Here the children have a lot of help, many benefits and everything is a little more accessible, plus some jobs are better paid than in our countries." In 2010, Guadalupe began using ACLAMO's services. She heard from people in the community about ACLAMO as a place that offered help like filling out documents for themselves and their children relating to many areas of life like insurance.
Guadalupe and her two children aged 10 and 7 are a part of ACLAMO's After-School and Summer Programs. Guadalupe herself is also a part of ACLAMO's parenting program. She says ACLAMO's services throughout the pandemic have been extremely helpful because her family was hit by unemployment in the construction industry. As her family gets back on their feet, ACLAMO has provided help with housing and food distribution. Guadalupe says that "[ACLAMO] is a great program that helps all people, the entire Hispanic community, more than anything else, since ACLAMO speaks Spanish and one can communicate with the people of [ACLAMO] more easily.
Guadalupe F. se mudó de Atlixco, Puebla México a los Estados Unidos en 2009. Se mudó con la intención de poder ayudar a su hermano con necesidades especiales ya que en México no se les brinda tantas oportunidades a los niños con autismo.
Guadalupe escogió Montgomery County como su nuevo hogar ya que su esposo ya había vivido en Montgomery County antes. Ella disfruta de Norristown, porque hay cosas hermosas cercanas como restaurantes, tiendas, y todo está a poca distancia. Cuando Guadalupe llegó a Norristown se sorprendió ya que la cultura de Estados Unidos es diferente a México, Guadalupe dice "Aquí los niños tienen mucha ayuda, muchos beneficios y todo es un poco más accesible, además algunos trabajos son mejor pagados que en nuestros países." Guadalupe comenzó a usar los servicios de ACLAMO en el año 2010 cuando escuchó sobre ACLAMO por la gente de la comunidad. La gente hablaba sobre ACLAMO como un lugar que ofrecía ayuda a la comunidad para llenar documentos de ellos y de sus hijos relacionados con muchas áreas de la vida como los seguros.
Guadalupe y sus dos hijos de 10 y 7 años forman parte de los programas de verano y después de clases de ACLAMO. Guadalupe también es parte del programa para padres de ACLAMO. Ella dice que los servicios de ACLAMO durante la pandemia han sido de gran ayuda porque su familia se vio afectada por el desempleo en la industria de la construcción. A medida que su familia se recupera, ACLAMO ha brindado ayuda de vivienda y con la distribución de alimentos. Guadalupe dice que "[ACLAMO] es un gran programa que ayuda a todas las personas, a toda la comunidad hispana, más que nada, ya que ACLAMO habla español y uno puede comunicarse con la gente de [ACLAMO] más fácilmente.
Maricela G.
Maricela G. is a proud immigrant from Puebla, Mexico. She migrated to the United States when she was six years old. She does not remember much about life in Mexico other than being constantly happy with what they had. Her father arrived to the United States two years earlier and was living in New York City. She remembers little from her migration journey because of her young age, but she recalls her and her family taking a bus to the airport and then a flight to Tijuana. In Tijuana, she and her two brothers were sent over with someone who helped them cross the border by car, meanwhile her mother stayed behind and joined them a few days later where they eventually joined their father in New York City.
Her migration journey was difficult, however she found strength along the way. She says, "my mother was definitely my biggest support. She always told us to work hard for our dreams and to never give up. She made me the strong woman I have become. Seeing their struggles, and how they overcame them, taught me strength." One of the most difficult things about leaving Mexico for Maricela was knowing that she may never see her grandparents again, which she never did. Maricela also misses being able to partake in the traditions and culture Mexico has to offer.
Maricela continues to explain that her migration journey taught her to value things more, especially her family, which is where she finds most strength. She never takes anything for granted as little or big as it may seem, because she has learned that for immigrants everything takes much more effort and sacrifice than for others. Since having to deal with difficult situations, Maricela shares that her greatest source of joy is her son. Being able to support her son in ways she wished she would have been supported growing up is definitely rewarding. Her other greatest joys are her parents. She says she is able to help them in multiple ways, not just financially, but emotionally. Her immigration status has helped her to do that. Maricela believes that migration has made her a stronger person and has allowed her to become a more resilient person in adverse situations, in different stages of her life.
By sharing her story, Maricela wants more people to know about the difficulties immigrants face when trying to adjust their citizenship status. She commonly hears people say, "they should just adjust their status," however, it's not that simple. For many, the only option is to come to the United States without a status because it is the only thing left to do in order to survive. If she could choose two or three of the most important things she would like people to do to help immigrants, is for people to be more accepting of the different cultures, and ideas of immigrants. She also hopes that more information will become available for newcomers on how to adjust to life in the U.S, like ACLAMO does for many of its clients when they first arrive to the United States. She says, "ACLAMO has allowed me to grow in a professional setting; an opportunity that came at a key turning point in my life. I was moving from NYC to PA, and this opportunity helped me transition to a job that has allowed me to help my fellow immigrant community. Representing where I come from and my roots, is something that I am very proud of and am able to do here."
ACLAMO is grateful to have Maricela as part of our team, and we celebrate her strength and resilience every day.
Maricela Guzman es una orgullosa inmigrante de Puebla, México. Emigró a los Estados Unidos cuando tenía seis años. Ella no recuerda mucho sobre su vida en México aparte de ser muy feliz con lo que tenía. Su padre llegó a los Estados Unidos dos años antes y vivía en la ciudad de Nueva York. Ella se acuerda poco de su viaje migratorio debido a su temprana edad, pero sí recuerda que ella y su familia tomaron un autobús al aeropuerto y luego un vuelo a Tijuana. En Tijuana, un coyote ayudó a ella y a sus dos hermanos a cruzar la frontera en coche, mientras que su madre se quedó atrás y se unió a ellos unos días más tarde. Cuando llegaron a la ciudad de Nueva York se reunieron todos con su padre.
Su viaje migratorio fue difícil, sin embargo encontró fuerza en el camino. Ella dice: "Mi madre fue definitivamente mi mayor apoyo. Ella siempre nos dijo que trabajáramos duro por nuestros sueños y que nunca renunciáramos. Mi madre me hizo la mujer fuerte en la que me he convertido. El ver sus luchas y cómo las superó me enseñó a tener fuerza". Para Maricela una de las cosas más difíciles acerca de salir de México fue saber que a lo mejor ya no podría ver a sus abuelos de nuevo. También añora el no poder participar más en las tradiciones y la cultura de su país.
Maricela explica que su viaje migratorio le enseñó a valorar lo verdaderamente importante que es su familia porque en ellos es donde encuentra la fuerza y el valor. Ella nunca da por sentado ni lo grande ni lo pequeño porque ha aprendido que para los inmigrantes todo toma mucho más esfuerzo y sacrificio que para los estadounidenses. Desde que tuvo que lidiar con situaciones difíciles, Maricela comparte que su mayor fuente de alegría es su hijo. Haber sido capaz de apoyar a su hijo como le hubiera gustado que le hubieran apoyado a ella, le resulta muy gratificante. Sus otras alegrías son sus padres. Ella dice que ha podido ayudarles, no solo financieramente, sino de muchas maneras y que su estatus migratorio le ha ayudado a hacerlo. Maricela cree que la migración, le ha convertido en una persona más fuerte y más resistente en las situaciones adversas en las que se ha encontrado.
Maricela quiere compartir su historia para que más gente sepa sobre las dificultades que enfrentan los inmigrantes al tratar de ajustar su estatus de ciudadanía. Normalmente escucha a la gente decir: "Deben ajustar su estatus", sin embargo, se sabe que no es tan simple. Para muchos, la única opción es venir a los Estados Unidos sin documentación porque es lo único que pueden hacer para sobrevivir.
Si ella tuviera que elegir dos cosas importantes que la gente pueda hacer para ayudar a los inmigrantes, serían una mejor tolerancia de otras culturas y de las opiniones de los inmigrantes y una mayor disponibilidad de información para los recién llegados que les ayude a adaptarse a la vida en los EEUU. Esto último es la gran labor que ACLAMO hace para muchos de sus clientes cuando llegan por primera vez a los Estados Unidos.
ACLAMO agradece tener a Maricela como parte de nuestro equipo y celebramos su fuerza y resiliencia todos los días.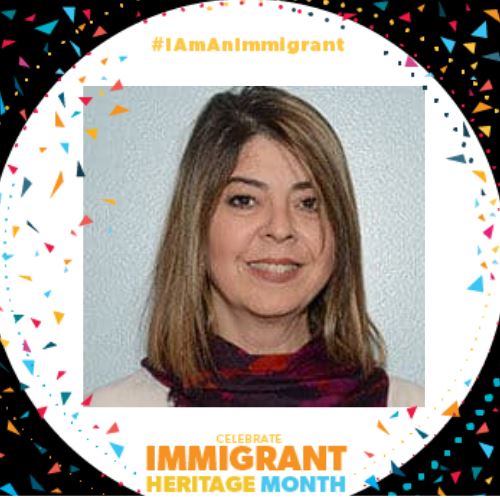 Beatriz G.
Beatriz G. is a proud immigrant from Venezuela. She migrated to the United States in 1996, and she had a different migration journey than most. She migrated in order to accompany her then husband who worked for CocaCola and was asked to relocate to the United States. Beatriz recalls that the hardest thing about her migration journey was leaving Venezuela because she had a great job and was close to her family. Beatriz was and still is the only person from her family that has migrated to the United States.
Beatriz had visited the United States before with a tourist visa therefore the environment did not surprise her as much when she arrived in the US. What did surprise her was that day-to-day life was very different. In Venezuela, she had people that worked for her in her home and here she realized that she could not have that since it is very expensive.
Some of the biggest challenges she faced were not seeing her family, not being able to be there daily or on special occasions, and not being able to be there for the good and the bad. On a professional level, it was hard because although she had a career when she came to the United States, she almost had to start from zero.
Although her life changed completely, she still managed to find joy. Beatriz shares that she met her second husband, she formed a family, and her neighborhood is very united. If she were to need something they would help each other. She says that ACLAMO fills her with joy, and she is thankful to be able to be here and still help her family in Venezuela, as the country is going through hard times. Beatriz believes that her migration journey has made her a stronger person because she was able to master a new language, achieve a graduate degree, and in her personal life she says that not having her family close to her has made her stronger because she doesn't have anyone to solve her problems for her, she needs to solve them by herself.
Beatriz wishes that more people knew that the majority of immigrants that come to the United States come to work and they leave their home countries because of the lack of opportunities. They come here to work, not to steal or kill. She is sure that if migrants could find the opportunities that the United States has in their home countries they would not need to move. If she could give advice to migrants it would be that they should assimilate to the culture of the United States. She knows that in the majority of the cases it is very hard for people to come here with papers, but regardless of their status, they need to adapt to the culture and understand that there are laws that need to be followed to adapt more easily. With the help of ACLAMO, we can provide that guidance.
ACLAMO honors and celebrates the migration journey of Beatriz. We are lucky to have her in our team and we are proud of the many things she has accomplished.
Beatriz Gasiba es una orgullosa inmigrante de Venezuela. Emigró a los Estados Unidos en 1996 y tuvo un viaje migratorio diferente al de la mayoría. Vino a EEUU para acompañar a su entonces marido que trabajaba para Coca Cola y al que se le pidió que se trasladara a este país. Beatriz recuerda que lo más difícil de su viaje migratorio fue dejar Venezuela porque tenía un gran trabajo y estaba cerca de su familia. Beatriz fue y sigue siendo la única persona de su familia que ha emigrado a Estados Unidos.
Beatriz ya había visitado los Estados Unidos antes con una visa de turista por lo que, cuando llegó a este país, el nuevo ambiente y la cultura no le sorprendieron tanto. Lo que sí le sorprendió fue que la vida cotidiana era muy diferente. En Venezuela contrataba a gente que le ayudaba en las tareas de la casa y aquí se dio cuenta de que no podía tener esa ayuda porque era muy caro.
Algunos de los mayores desafíos que enfrentó fueron el no poder ver a su familia, no poder estar allí diariamente o en ocasiones especiales y no poder estar presente para lo bueno y lo malo. En cuanto a la parte profesional fue muy difícil porque, aunque tenía unos estudios y una carrera en Venezuela, cuando ella llegó a los Estados Unidos tuvo que comenzar de cero.
A pesar de que su vida cambió completamente y tuvo muchas dificultades, fue capaz de encontrar la alegría de nuevo. Beatriz comparte que conoció a su segundo marido, formó una familia y se mudaron a un gran vecindario. Todavía vive allí y sus vecinos son como una segunda familia, se ayudan unos a otros. Beatriz también menciona que su trabajo en ACLAMO la llena de alegría. Está muy agradecida de poder estar aquí mientras que al mismo tiempo puede ayudar a su familia en Venezuela ya que su país está pasando por momentos difíciles.
Beatriz cree que su viaje migratorio le ha convertido en una persona más fuerte porque consiguió dominar un nuevo idioma, volver a la universidad y lograr un título de posgrado. En cuanto a su vida personal, opina que no tener a su familia cerca de ella la ha hecho más astuta e independiente porque no tiene a nadie que le resuelva sus problemas; ella necesita resolverlos por sí misma.
Una cosa que Beatriz quiere es que los ciudadanos americanos sepan que la mayoría de los inmigrantes que vienen a los Estados Unidos vienen a trabajar y salen de sus países de origen debido a la falta de oportunidades. Esas personas vienen a conseguir un futuro, no vienen para robar o matar. Está segura de que si los migrantes pudieran encontrar en sus países de origen las oportunidades que existen aquí, no tendrían necesidad de salir de sus países.
Si Beatriz pudiera dar un consejo a los migrantes, sería que asimilaran en cuanto antes la cultura de los Estados Unidos. Ella sabe que en la mayoría de los casos es muy difícil entrar en este país con papeles, pero aún así, ellos necesitan adaptarse a la cultura y entender que hay leyes que hay que respetar para conseguir más fácilmente esa adaptación. ACLAMO puede ayudar y proporcionar esa orientación.
ACLAMO honra y celebra el viaje migratorio de Beatriz. Tenemos la suerte de tenerla en nuestro equipo y estamos orgullosos de las muchas cosas que ha logrado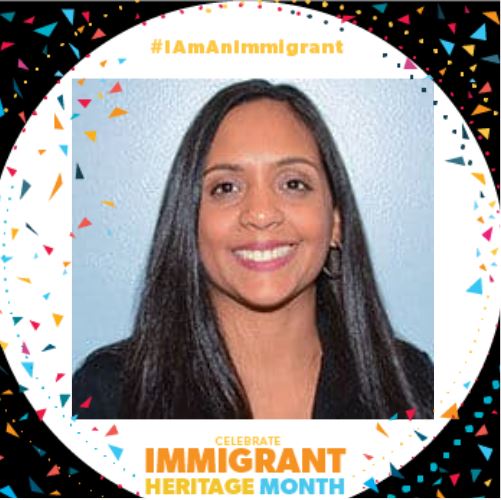 Carolina L.
Carolina L. is a proud immigrant from the Dominican Republic, she migrated to the United states in 2009. Carolina recalls that her life in the Dominican Republic was very good; she worked for a marketing company and lived close to her family. She says that her migration journey was hard because she was married at the time, and her husband already lived in the United States. It was very hard for her to wait to finally be reunited with her husband at the time.
The hardest part for Carolina about leaving the Dominican Republic was leaving her family behind since she migrated by herself and only had her husband waiting for her in the US. When she arrived, she was surprised to see how developed the country was compared to her home country. She realized how many more opportunities the United States offers and how it is a bit easier to be successful and free in the United States. Although there are many things that the United States offers, she still misses plenty of things from her home country, like her culture, her food and of course, her family.
Carolina's biggest challenge after migration was learning a new language. She came from a country whose main language is Spanish, and she had to begin from scratch to learn English when she arrived to the United States. It was also challenging to adapt professionally in the United States. In the Dominican Republic, she was already settled in her career. However, upon her arrival, she quickly realized that she would have to start over. Nevertheless, she persisted and decided that if she needed to knock from door to door to get a job, she would do it because she wanted to make it in this new country, and she did.
Carolina said she found strength in her family since everything she does is to make sure her family is well. Carolina believes that taking part in the migration process has changed her and made her more culturally aware since she has learned new things and keeps learning every day about different cultures. Carolina now lives a very happy life as a single mother and this is due to her ability of being able to work and being an independent woman. She is able to provide for her children and see her children take advantage of all of the opportunities around them.
Carolina wishes that people knew that immigrants are hard workers and are always looking for an opportunity to achieve big things. If there was anything Carolina would like the community to do in order to make the process of coming to a new country easier it would be to create more programs and organizations like ACLAMO because when she first arrived in the country she did not know programs existed. She believes that ACLAMO makes a big difference in the lives of immigrants to help with the adaptation process. She would like to see more organizations like ours in order to help immigrants make this process easier.
ACLAMO celebrates and honors all of Carolina's accomplishments as well as her perseverance to keep going. We are thankful that she is a part of our team.
Carolina López es una orgullosa inmigrante de la República Dominicana que emigró a los Estados Unidos en 2009. Carolina recuerda que su vida en la República Dominicana fue muy buena ya que trabajaba para una empresa de marketing y vivía cerca de su familia. Cuenta que su marido ya había emigrado a los Estados Unidos y le fue difícil tener que esperar para reunirse finalmente con él.
Carolina dice que su viaje migratorio fue muy difícil. Lo peor fue dejar atrás a su familia ya que tuvo que emigrar sola. Cuando llegó, se sorprendió al ver lo desarrollado que era Estados Unidos en comparación con su país de origen. Se dio cuenta de la cantidad de oportunidades que ofrece Estados Unidos y de que tener éxito y ser libre puede ser más fácil en Estados Unidos.
Carolina sabe que aún teniendo las magníficas oportunidades que ofrecen los Estados Unidos, es muy difícil perder lo bueno de su país natal, como la cultura, comida y, por supuesto, su familia.
El mayor desafío de Carolina después de emigrar fue aprender un nuevo idioma. Vino de un país cuyo idioma principal es el español y tuvo que empezar de cero y aprender inglés cuando llegó a los Estados Unidos. También fue muy difícil adaptarse profesionalmente en los Estados Unidos ya que ya tenía una carrera estable en la República Dominicana. A su llegada, rápidamente se dio cuenta de que tendría que empezar de nuevo. Aún así, ella persistió y decidió que si ella tenía que golpear de puerta en puerta para conseguir un trabajo, ella lo haría porque quería conseguir tener una vida buena y digna en este nuevo país y así lo hizo.
Carolina dijo que ella encontró fuerza en su familia ya que todo lo que ella hace es asegurarse de que su familia está bien. Carolina cree que tomar parte en el proceso de migración la ha cambiado y la ha hecho más consciente culturalmente ya que ha aprendido, y sigue aprendiendo, cosas nuevas acerca de otras culturas.
Carolina ahora vive una vida muy feliz como madre soltera. Esto es resultado de su capacidad de poder trabajar y de ser una mujer independiente. Es capaz de proveer para sus hijos y ver cómo sus hijos aprovechan todas las oportunidades que les rodean. Carolina desea que la gente sepa que los inmigrantes son muy trabajadores y siempre están buscando la oportunidad para lograr grandes cosas.
A Carolina le gustaría que se ayudara a los inmigrantes con el proceso inicial a través de la creación de más programas y organizaciones como ACLAMO. Cuando ella llegó por primera vez al país, no sabía que existían programas.
Carolina opina que ACLAMO hace una gran diferencia en las vidas de los inmigrantes para ayudar con el proceso de adaptación. Le gustaría ver más organizaciones como la nuestra ayudar a los inmigrantes a facilitar este proceso.
ACLAMO celebra y honra todos los logros de Carolina, así como su perseverancia para seguir adelante. Estamos agradecidos de que ella sea parte de nuestro equipo.