Support the Latino Community. Purchase tickets to ACLAMO'S April 30 Culinary Celebration
Enjoy great food, drinks, music and conversation!
For the next several months, the ACLAMO newsletter will provide sneak peeks of some of the vendors participating at this event.
ACLAMO Pennsylvania Champion
In mid February Executive Director Nelly Jimenez, opened a letter from the Pennsylvania Statewide Afterschool /Youth Development Network. It was the official announcement of the recognition of ACLAMO's STEAM Skills and Career Exploration program as an Afterschool Champion. STEAM is an acronym standing for Science, Technology, Engineering, Arts and Mathematics.
The letter stated that this recognition "demonstrates your exemplary commitment, dedication, and outstanding work in supporting meaningful high quality afterschool / out-of-school time (OST) for children and youth in your community."

Director Jimenez is exhuberant. "The strong support from Montgomery County's Workforce Investment Board and the dedication of ACLAMO's teachers, volunteers, students and supportive families have all made our STEAM program a success. It is great to receive this recognition."
"Seussical" At Montgomery County Community College
ACLAMO kindergarten and first grade students and their parents and siblings watched in fascination as Horton and a combination of characters created by Dr. Seuss sang and danced their way across the stage at Montgomery County Community College.
After the performance, students mixed with cast members and stretched their creative imaginations.
Inner and Outer Beauty
As part of a grant funded by the Pottstown Area Health and Wellness Foundation, ACLAMO holds discussions with Latina women with the goal of encouraging healthy life styles and of strengthening self image and self confidence. A meeting in February included exchanges of opinions and experiences on the subject of self image, as well as discussion of healthy food choices and tips on hair styling and cosmetics.
Jenkintown High Students Celebrate Valentine's Day at ACLAMO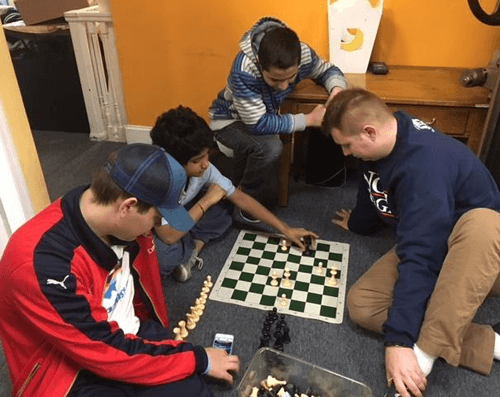 Each Valentine's Day, Richard Detwiler and fellow Jenkintown High School teacher Edith Guaye and their students turn ACLAMO Norristown into a swirl of activities, including cookie decorating (and eating), Valentine designing, button making and even playing chess.
No one knows exactly what the original Saint Valentine looked like, but students in ACLAMO's After School Program probably think he resembled Spanish teacher Richard Detwiler.
Volunteers Make A Difference
Since it began in 1977, ACLAMO has relied heavily on the work of volunteers. Under the supervision of professional staff, these loyal supporters provide a wide range of services, from mentoring, tutoring, providing transportation, assisting in fundraising, teaching special classes, hosting informational sessions and health screenings, and the collection and distribution of toys, clothing and household goods.

Not counting the work of members of the board of directors, who provide vital leadership support, the following sources of volunteers have been particularly noteworthy. Included are the hours of service provided from September 1, 2016 to January 31, 2017:

Bryn Mawr College – 161 hours; Community Volunteers – 286 hours; Eastern University – 4 hours; Episcopal Academy – 105 hours; Public High Schools – 2 hours; Ursinus College – 232 hours; Villanova University – 1021 hours.
A.D.D. In Five Languages
When 17-year old Mexican born Pedro Cattori wanted to earn money, he decided to think out of the box. Most youth his age would have looked for a job delivering pizza or newspapers, but not Pedro. Instead, he decided he would try to sell colloidal silver, which he had used to purify drinking water while hiking.
Pedro's research revealed that the German company producing the product did not have a representative in Mexico. So in the early 1980s, Pedro wrote the company offering to be its representative in Mexico. His letter didn't happen to mention that he was only 17 years old. The company accepted his offer and to its delight Pedro promptly sold half a million U.S. dollars worth of the product. When an executive traveled to Mexico to met the company's successful Mexican representative for the first time, he looked at Pedro and asked, "Where is your boss?!"

Nowadays, no one asks Pedro about his boss, because Pedro IS the boss – of a holding company based in Philadelphia with 7 subsidiary companies trading and manufacturing a wide range of pharmaceutical and biotech products. His markets include the USA, Italy (and hence the European Union), Mexico, Ecuador, Peru and Colombia.

The son of a Swiss father and Mexican mother, Pedro comes by his international interests naturally. His parents enrolled him in the Swiss School of Mexico in kindergarten, where from 8 a.m. to 4:30 p.m. all teaching is done in English, French, German, Italian, and Spanish. When Pedro graduated from high school, he was fluent in all five languages.

"I have mild A.D.D.," Pedro muses, "and that has really helped me a lot. I have to stay focused and organized. You should see my briefcase. I know exactly where everything goes."

Executive Director Nelly Jimenez is enthusiastic about Cattori. "Pedro is an experienced strategic thinker. As a member of our board of directors, he applies proven strategies to ACLAMO's planning. This makes the organization stronger and more financially sound."