When Genesis Perez-Melara began playing tennis in her Boston area middle school, she had not even reached her present height of 4'll. "I love tennis," she laughs, "but to win I really have to use strategy!"
Genesis' participation in the tennis program involved a lot more than developing strategy for handling overhead smashes. It had to do with the other intangible goals: developing self confidence, leadership and preparing for a successful future.
For three years, Genesis has been using the intangible lessons she learned in the tennis program as she encouraged and advised ACLAMO students in the ADELANTE middle and high school program. This past year, she was responsible for recruiting, energizing and coordinating all Bryn Mawr College volunteers in the program.
One of the unique contributions Genesis has made involves graphic calculators. The SAT college admissions exam permits the use of graphic calculators for answering one of the mathematics sections of the test. This is only helpful, of course, if a test taker has such a device and knows how to use it. Genesis discovered that most ACLAMO students did not have access to a graphic calculator, much less know how to use one. So, Genesis organized "Cupcakes for Calculators", a clever campaign on the Bryn Mawr campus and collected 10 used graphic calculators and an additional $200 for purchasing more calculators for ACLAMO students.
Genesis graduated in May from Bryn Mawr College and has been selected as coordinator of a high school research program at Harvard Medical School. She is still strategizing. Genesis plans to take two years away from school to gain real life experience. Then she expects to attend medical school and begin a career working in population health and the health disparities among population groups. "I don't focus on making money," she smiles, "I want to make a difference."
SOCCER FOR LEADERSHIP
Starfinder Foundation´s 28,000 square foot indoor field in Manayunk was an exciting May travel destination for 36 ACLAMO students from grades 3 through 8. Since 2002, Starfinder Foundation has supported Philadelphia area youth with the goal of transforming Philadelphia and inspiring real social change. The ACLAMO students enjoyed a four hour session developing soccer skills, learning valuable lessons in leadership and having great fun and exercise.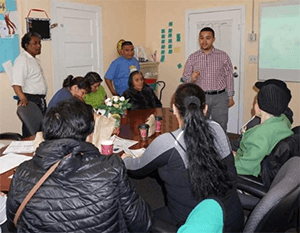 CIVICS TRAINING
As part of its commitment to developing political awareness among members of the Latino community, ACLAMO provides workshops on how local, state and national governments operate.  This event was led by ACLAMO´s Associate Director Carlos Gonzalez and was held in collaboration with the Pennsylvania Immigration and Citizenship Coalition (PICC) of which ACLAMO is a member.
CPR FOR INFANTS
Responsible adults are concerned about steps they should take in the case of a medical emergency for a child. With instructors from the Einstein Healthcare Network, ACLAMO confronts this urgent situation with a health class on CPR techniques for parents and grandparents.