ACLAMO'S 2015 Summer Bridge Program really adds up
Staff + Volunteers + Presenters = Excitement
ACLAMO's regular team of teachers is organizing and leading Summer Bridge, which runs from June 29 to August 6. A total of 121 students in grades kindergarten through ninth grade are participating. Classes are being held in Stewart Middle School, thanks to the support of Principal Martina Walls.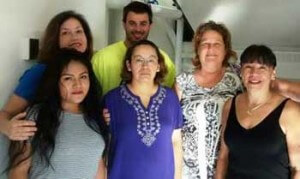 (left to right) Rosario, Linda, Steve, Nadine, Marla and Esther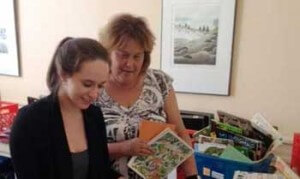 In the photo, Micala Hotra-Schuert, a sophomore at Bryn Mawr College, helps Director Marla Benssy organize books.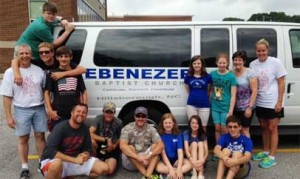 Volunteers have come from as far away as North Carolina, where a church sent a group of volunteers for a week of work, coordinated through Eastern University.
Short term employees and volunteers
30 workers from 8 colleges and high schools are a key part of Summer Bridge. They add their talents to the veteran teaching staff and also learn valuable lessons in education and community service. It is a "win-win" experience for everyone.
Special Program Presenters
Summer Bridge students are enjoying entertaining experiences in a variety of academic areas – many related to STEM (Science, Technology, Engineering and Mathematics).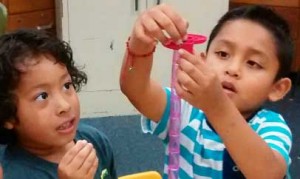 Oscar and Alvin concentrate on their engineering experiment.
Dana tests the law of gravity.
Sarah Zolynski, a Dow Chemical Ambassador, helps students with an experiment.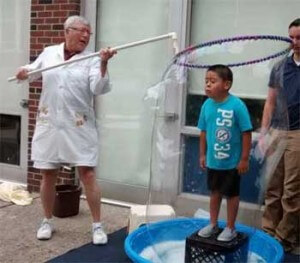 (left) Dr. Bubbles (Dick Close) shows Brendan a new meaning for "blowing a bubble".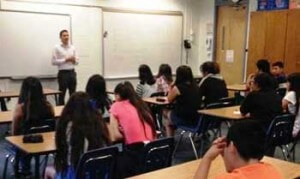 Dow chemist Javier Rosado shares his career path with a class of junior high students.