Luna Moskal
(her testimony as given at our Faces of Hope breakfast in 2013)
Hello, it's an honor to be here! Thank you for coming!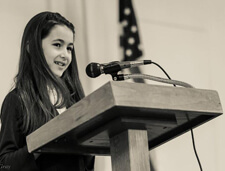 My name is Luna Moskal. I am 10 years old and live in Norristown. My origins are Chilean and American. Chilean from my mother, Edith, and American from my father, Robert. I have been going to ACLAMO for the last 5 years. At the beginning math was very hard for me to understand, I didn't like it at all. But, when I came to ACLAMO the teachers and the tutors taught me step by step how to solve mathematical problems.
Now math is my favorite subject and I feel more confident in math work. In addition to coming to ACLAMO I have developed not only communication skills, but also strong social and learning skills!
The tutors come to ACLAMO every day to help us with our homework and studying for our tests. The tutors are friendly and they have the knowledge and skills to do everything well. The tutors have helped me to get all A's in my classes. Sometimes they have parties for us to celebrate the holidays. I really enjoy these parties!
There are many different activities at ACLAMO such as exercising, musical chairs, arts & crafts and airplane contests. One of my favorite activities is the school store. I work in the school store every week on Thursday. The store helps me and the kids in the program deal with money and marketing. There are many things that we sell at the school store, such as toys, books, and school supplies. The kids in the program run the store.
I am responsible for setting the prices for the items we sell. I think the school store makes the program better because the kids are getting the chance to do their best so they can earn money for the school store.
We have many computers in the rooms where the kids can play math games and do their projects. It helps ACLAMO because some kids prefer using technology to finish their homework and study. Or some students cannot afford computers at home.
We also have some older students that come from many different colleges who do science and plant centers with us, which I like very much! ACLAMO is a very friendly place to be. The kids all get along with each other and the teachers.
I would like to thank my teachers at ACLAMO, Miss Marla and Miss Nadine, for their hard work they put into the program.
Finally, I would like to thank every one of you for making this program possible, you are truly preparing us for the future we have ahead!
I want to be a lawyer someday. Then, I can give back to ACLAMO all it gave to me.
Thank you so much and have a great day!