Katia Alonzo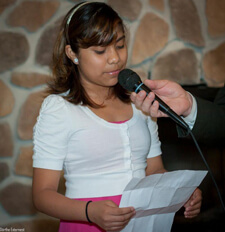 Katia Alonzo shares her story of how ACLAMO improved her life. Moving to Norristown from Mexico 18 months ago, Katia Alonzo soon became overwhelmed in school because she didn't speak English.
"When I began school, I felt weird because I didn't know anyone, or how to communicate," Katia told the crowd of more than 170 people at ACLAMO's Faces of Hope fundraiser in 2012. "I didn't speak a word of English then."
Katia struggled in school, and so her parents enrolled her in ACLAMO's After-School Program, managed by Lead Teacher Marla Benssy. As soon as she began, Katia immersed herself in her homework and worked closely with the staff and tutors. "Miss Marla knew that I didn't speak English so she started me out with simpler words," Katia said during her testimonial at the breakfast. "She was really nice to me. Soon after that I started to feel like I was learning the language."
Now twelve years old, Katia has been commended by her teachers for her compassion and language skills and her willingness to help newly arrived Spanish-speaking students. Those leadership skills have helped her to thrive academically and socially.
Katia boasts that she has more friends in Norristown than in her town of Puebla, Mexico! Thanks to what she has learned in ACLAMO, Katia said she now has plans to become a lawyer. With her brother learning to be an international chef, Katia also wants to learn French. There is no stopping her!