Inés Hernandez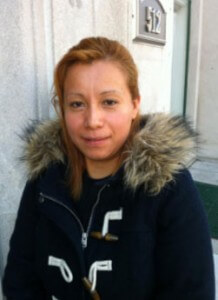 Born and raised in the state of Veracruz, Mexico, Inés Hernandez lived there with her children, working on and off in whenever she could to help her family survive. On a hot day walking with her children past carts of vibrant, delicious fresh fruit, her hungry daughter turned and asked if she could buy her a piece of watermelon.
Though it cost only a few cents, Inés did not have the money and had to say no. Having struggled all her young life to provide even the little she could for her family, she realized that day that she had to make a change.
A short time later, Inés found her way to Norristown and began working in entry level jobs while her parents took care of her children in Mexico. "It was the hardest part, to leave my children behind". Inés shared with great sadness, "But I knew I had opportunity here for my children".
After living in the United States for a few years, she was able to bring her children to live with her. In 2006, Inés heard about ACLAMO from a former employee. She didn't know much about what ACLAMO offered, but hoped that it could help her and her children succeed in their new life.
A year later, while her 4-year-old son, Jeiffer started in the preschool Family Literacy program Inés began the corresponding adult literacy ESL (English as a Second Language) classes. In addition to learning English and computer skills, she immediately found a home in ACLAMO.
Her youngest daughter began preschool a year later and both children excelled. Inés even noted that her son received such a good education at ACLAMO that upon entering kindergarten, he did not even need to enroll in ESL classes.
"The ACLAMO services, the staff members, and the teachers were incredible", Inés commented, "I am eternally grateful for me and my children". She credits her children's continued success in school to the education received here. Currently, both children are in elementary school, earning the highest grades and both in their school's honor roll.