Filadefa Rivera, Family Literacy Mom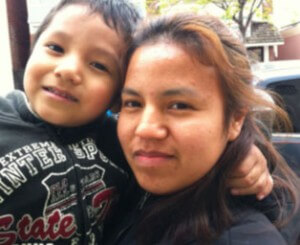 We listened in astonishment as Fila (as she likes to call herself) served as the poised narrator of the Three Little Pigs play in English held at ACLAMO.
Fila began the Family Literacy Program with her three-year-old son, Mario a few years ago. She has blossomed into a confident student of English and computers.
In fact, she has become the "go to" student to help other students or teachers with computer issue.
Fila's older son, 5-year-old Kevin also attends the Family Literacy Program and is quickly learning English and enhancing his reading skills. He returns to ACLAMO's Summer Bridge program every year. He is now in second grade, and thanks to the reading skills he acquired at ACLAMO, reads English fluently.