Dear Friends,
Through our food drives, education programs, health, and social services, ACLAMO's goal is to directly fill the gaps in our community. While that transformative work that the public sees is essential to ACLAMO, our staff is often motivated by the stories you may not see. The personal success stories are the ones that circulate the office and keep us all motivated to do this work.
As we kickoff our yearly campaign, Light of Hope, we would like to share one of these powerful stories because we know it will inspire you in the same way it has inspired us here at ACLAMO.
Jermy's connection with ACLAMO started at the young age of 9, the same year he moved to the area from the Dominican Republic. He took advantage of our education services by participating in the mentoring, summer, and ADELANTE programs. Jermy even served as a counselor-in-training at our summer program. Now, Jermy is a college freshman and has received a scholarship through ACLAMO which greatly decreased his out-of-pocket tuition costs. He and his family shared that the scholarship has been such a help as financial aid can be hard to find. 
We are so proud of Jermy and his success. It has been so fulfilling to see him grow from an elementary student to a working full-time college student. We are honored to support his matriculation through donor scholarships. Your contributions can also assist students like Jermy.
By donating to Light of Hope this year, you are investing in the students and clients we serve. All gifts will go to general operating.  Click the button below to donate today!
Many donors have chosen to become recurring contributors, "Amigos de ACLAMO", with a monthly gift.  Your participation is key. We welcome you to join this group of dedicated donors at any amount- every gift is significant. The work we do here at ACLAMO is not possible without you. Thank you for your dedication and continued support.
Thank you,
Nelly Jiménez-Arévalo
Executive Director and CEO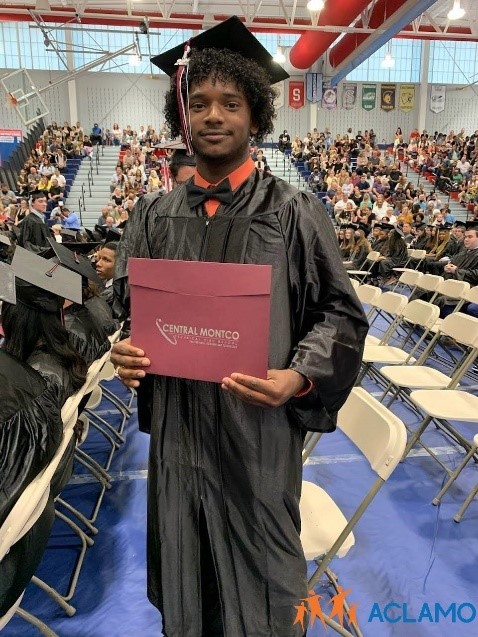 Support Light of Hope!
ACLAMO appreciates donations of any amount from individuals, groups, corporations and foundations.
As a 501(c)(3) non-profit organization, all donations are tax deductible to the extent allowed by law. All donations will be used to support programs for individuals, children, and families in Montgomery County. Thank you!
ACLAMO is approved by the IRS as an organization eligible to receive tax deductible charitable contributions. Our EIN number is 23-2059489. You can verify our tax exempt status by going to their website.